Bert Keizer over neurologisch reductionisme en vrije wil
31 oktober 2010 was er in de Internationale School voor Wijsbegeerte een dag over de hersenen en de vrije wil [cf hier]. De Britse breinkenner Rita Carter schetste de functie van de verschillende delen van de hersenen en hoe moderne hersenscans steeds duidelijker maken hoe onze hersenen functioneren en disfunctioneren. De Nederlandse filosoof en medicus Bert Keizer gaf een coreferaat waarin hij zich verzette tegen wat hij omschrijft als neurologisch reductionisme. Van beide in het Engels gehouden inleidingen werden video's gemaakt [cf hier].
Ik haal de video van Keizer naar dit blog, niet daar hij ook maar iets over Spinoza zegt. Spinoza is nooit zijn onderwerp. Maar wel, daar zijn inleiding een interessante illustratie is van twee dingen:
[1] Bert Keizer schetst voortreffelijk de categoriefout die neurologen maken die menen iets over het denken van een persoon vanuit hersenplaatjes te kunnen zeggen. Hier dienen wij zelf het verhaal erbij te bedenken over de twee verschillende attributen, van waaruit "één ding", een persoon, 'bestudeerd' kan worden: nu eens via de ene weg, dan weer via de andere weg, maar nooit is er een weg rechtstreeks van het ene naar het andere attribuut.
[2] Bert Keizer denkt dat de vrije wil wel degelijk bestaansrecht heeft. Hij denkt dat de neurobiologen zich schuldig maken aan 'reductionisme' en ten onrechte de vrije wil ontkennen.
Maar er is dus, met behoud van alles wat hij schetst onder [1], de Spinozistische zienswijze dat de vrije wil niet bestaat, waarbij nog steeds de neurowetenschappers een categoriefout maken en foutieve reductie plegen. Zij hebben Spinoza niet aan hun kant, tenzij ze in hun beschouwingswijzen ingaan op Spinoza's filosofische benaderingswijze. Ondanks de schijn van het tegendeel was ook Damasio niet zo'n Spinozistisch denkende neurowetenschapper.
Het verhaal duurt 27:55 minuten. Vanaf ca 18 minuten komt het onderwerp "vrije wil" aan bod.
Dit blog vind ik meteen een mooie gelegenheid om weer eens een pas uitgekomen boek te laten zien, waarin Spinoza totaal niet voorkomt.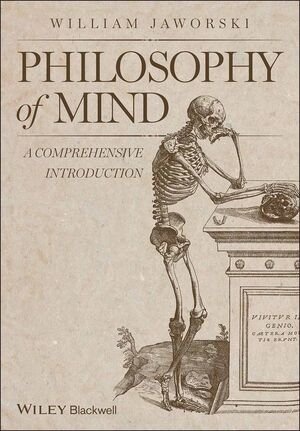 Zelfs niet in het hoofdstuk Dual-Attribute Theory. Wel Descartes, wel Aristoteles (de auteur staat een hylomorfistische theorie voor), maar Spinoza? Alsof die nooit heeft bestaan. In ieder geval kennelijk niet voor:
William Jaworski: Philosophy of Mind: A Comprehensive Introduction. Wiley-Blackwell, 2011
"Philosophy of Mind introduces readers to one of the liveliest fields in contemporary philosophy by discussing mind-body problems and the various solutions to them. It provides a detailed yet balanced overview of the entire field that enables readers to jump immediately into current debates."
Tabel of contents
1. Mind-Body Theories and Mind-Body Problems.
2. The Mental-Physical Distinction.
3. Substance Dualism.
4. The Physicalist Worldview.
5. Reductive Physicalism.
6. Nonreductive Physicalism.
7. Eliminative Physicalism, Instrumentalism, and Anomalous Monism.
8. Dual-Attribute Theory.
9. Idealism, Neutral Monism, and Mind-Body Pessimism.
10. The Hylomorphic Worldview.
11. A Hylomorphic Theory of Mind.
12. Persons Zie hier PDF van Chapter 12 - Persons
13. Free Will Zie hier PDF van Chapter 13 - Free Will
* * *
Een boek over Philosophy of Mind waar wél veel Spinoza in voorkomt:
Jon Miller (Ed.), Topics in Early Modern Philosophy of Mind. Springer, 2009
Daarin de hoofdstukken:
Don Garrett, Descartes, Spinoza, and Locke on Extended Thinking Beings [cf]
Charles Jarrett, Spinoza on Teleology, Value, and the Unity of Mind [cf]
Olli Koistinen, Spinoza's Eternal Self [cf]

In books.google is aardig wat van deze stukken in te zien.
De inleiding van Don Garrett: "Can we know that nothing is in itself both thinking and spatially extended? This was among the most central and divisive philosophical issues of the early modern period, one with obvious relevance not only to the theoretical understanding of mind and matter, but also to the practical prospects for immortality and, with it, divine sanctions for morality. While many important philosophers—including Nicolas Malebranche, Gottfried Wilhelm Leibniz, and Samuel Clarke—responded affirmatively, perhaps the most famous and influential defense of the affirmative answer was given by René Descartes. While many other important philosophers— including Thomas Hobbes, Henry More, and Anthony Collins—answered negatively, perhaps the two most infamous and influential defenses of the negative answer were given by the two great philosophers born in 1632, Benedict de Spinoza and John Locke.
Descartes' position is expressed clearly in his confident assertion in Principles of Philosophy I.53 (published in 1644) that thought and extension are "principal attributes" of substances and that every substance has only one principal attribute. The assertion is undefended there, but behind it lie two arguments that he had already presented in the Sixth Meditation of Meditations on First Philosophy (1641)—one from separability and one from divisibility. Both Spinoza and Locke studied Descartes' Meditations and Principles with care; Spinoza even included a version of the argument from separability in his own 1663 axiomatization of Descartes' Principles of Philosophy.4 Hence, they must have judged that they could evade the force of these two arguments. Yet neither philosopher directly attempts to diagnose an error in either argument.