Kadya Molodowsky (1894 - 1974) "excommunicated together with the divine innocent, Spinoza"
Van het een komt het ander. Na het vorige blog over Melech Ravitch (1893 - 1976), waarin ook Kadya Molodowsky voorkomt, bleef ik nog even met haar bezig. En toen ik daarbij in een gedicht van haar uit 1946 de naam Spinoza tegenkwam, wist ik dat ik ook over haar een blog moest maken, hoewel ik in haar geen Spinozist bespeur. Beiden, Molodowsky en Ravitch, hebben elkaar gekend, hebben in ongeveer dezelfde periode geleefd, beiden waren voornamelijk Jiddische dichters, beiden kwamen uit Warschau en verlieten die stad ongeveer in dezelfde periode. Hij ging eerst naar Australië en kwam toen in Canada terecht. Zij ging direct naar Amerika, New York.
Over haar zijn (zoals het in mijn ogen hoort) aardig veel webpagina's en boeken te vinden. Die mistte ik in mijn vorige blog over Melech Ravitch. Ik zal er hier een aantal noemen.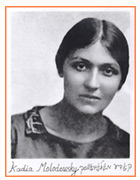 Het National Jiddish Book Centre heeft zo'n Kadya Molodowsky-pagina.
De Jewish Heritage Online Magazine heeft zo'n Kadya Molodowsky-pagina.
Kathryn Hellerstein die een boek samenstelde, Paper Bridges: Selected Poems of Kadya Molodowsky [Wayne State University Press, 1999], waarvan, als ik het goed begrepen heb een Jiddisch/Engelse en een Hebreeuws/Engelse editie uitkwam, heeft ook bij de "Jewish Women: A Comprehensive Historical Encyclopedia" een webpagina over Kadya Molodowsky.
Dat boek heeft een lange inleiding die volledig (behalve de foto's) is te raadplegen op books.google.nl
Vanwege al die zeer toegankelijke informatie hoef ik hier niet veel meer over haar te schrijven. In haar introductie wijst Kathryn Hellerstein er op dat slechts weinig vrouwelijke dichters in het Jiddisch schrijven en dat dan ook nog met literair succes doen. Over de polemiek die Melech Ravitch daarover met haar in de jaren '20 in Warschau voerde hier overigens geen woord. Dat Kadya Molodowsky's carrière decaden zowel als continenten omspande bevestigt haar unieke status in de wereld van de Jiddische literatuur en onderstreept het belang van deze opmerkelijke collectie van ruim 100 gedichten van Kadya Molodowsky, aldus de uitgever. Hier uit dat boek het parodisch-'sacrale' gedicht
Havdalah *)
God of Abraham,
Make us a second Beginning.
May the sun never shine there--
Light betrayed us, anyway.
May the wind there not sing--
Joined with the Germans, it drove
Our people to the slaughter-shops.
May a green sea not roar there--
It sank the ships--those splinter
With our last refugees.
May mountains there not tear at the sky with their peaks--
They did not block the road for the assassins
To protect a tiny child.
We renounce beauty.
We renounce valor.
We renounce the praise-song.
May Einstein not leave an heir.
We are excommunicated together
With the divine innocent, Spinoza.
Make us a world with a strip of sky,
Once a year, may a star shine there--
And make Havdalah, and divinely interpret:
This is a second Beginning,
Without the world of the Germans,
Without the science of blood.
And under this strip of sky, the children will
Reply: Amen and amen.
Kadya Molodowsky
Uit haar bundel uit 1946, Der Melekh dovid aleyn is geblibn (Only King David Remained).
*) Havdalah (Hebrew: הבדלה) is a Jewish religious ceremony that marks the symbolic end of Shabbat and holidays, and ushers in the new week. In Judaism, Shabbat ends—and the new week begins—at nightfall on Saturday. Havdalah may be recited as soon as three stars are visible in the night sky. Some communities delay the Havdalah until later, in order to prolong Shabbat. If for some reason one cannot recite Havdalah on Saturday night, it may be observed as late as Tuesday evening. [wiki]
Een week geleden zette iemand uit Israel een video op YouTube met een geluidsopname waarin Kadya Molodowsky het openingsgedicht El khanun (Mercyful God) leest uit dezelfde 1946-bundel Der Melekh dovid aleyn is geblibn (Only King David Remained), gepubliceerd door de Papirene brik farlag (Paper Bridge Pres) in New York.
Ene Shalom Freedman omschrijft dit bij Amazom.com als: "Her most famous poem admirably translated here by Kathryn Hellerstein "Lord of Mercy" is a fierce ironic indictment of the special Jewish fate, a complaint and plea to G-d to stop choosing the Jews if this means their being chosen for extraordinary persecution and suffering."